Old Crow Medicine Show. Photo (& below):
(who is a freaking badass)
I first reached out to
Crystal Jahnig
when I ran across her jewelry line,
. I love the story behind her work. Everything is crafted with guitar strings from her husband's band, a little group you may have heard of called
Old Crow Medicine Show
.
In the literal sense, clocking in at seven members, their size makes it laughable to call OCMS "a little group." In the figurative sense, as well - they're a genre-shattering Americana juggernaut and a true blue string band, deeply embedded in the hearts of their worldwide fan base. Who hasn't hollered out the chorus to the stomper "Wagon Wheel" - a song originally sketched by Bob Dylan and completed by the band's founder and lead singer
Ketch Secor
- at some college bar? Five studio albums later (
Remedy
hit this year), the band's still out there,
touring as aggressively as ever
, arriving here in Atlanta next weekend to play what I'm sure will be one hell of a rowdy show with
Shovels & Rope
.
I don't know about y'all, but I'm a sucker for a love story. Once Crystal told me hers, a little ditty about jewelry quickly evolved into a long-form post about how she met and came to be inspired by her husband, bassist
Morgan Jahnig
.
"In 2006, I went to a [OCMS] show with a friend - I was twenty-one, and Morgan and I locked eyes while he was playing. We smiled, and both looked away. This was my first time ever hearing them!" She laughs. "After a couple of times looking at each other, we both started laughing. He was laughing on stage! My friend wanted to meet [opener] Gillian Welch, but we met Morgan instead... we shook his hand and told him what a great show. The next day," she continues, "I messaged him on Myspace and asked him on a date!" She laughs again, "Twenty-one and bold! He turned me down because he was dating someone else. Two days later, he was single, and he asked me out on a date. We had lunch ...and then dinner, and now we've been happily married for five years."
On life as part of the band, she becomes even more tickled. "I traveled with them this past July on the tour bus from Austin, Amarillo and then to Denver. I'm not tour bus material; this was only my second time ever! I can travel well, but trying to sleep while the bed is moving is just hard on the bones. One night, I'm pretty sure I caught air and landed back in the bunk. All twelve of the guys were sound asleep, and I was wide awake!"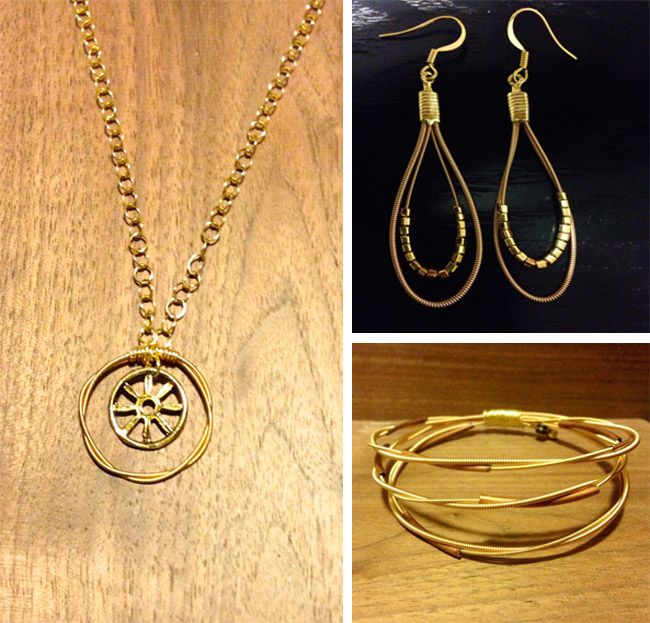 Crystal hand-crafts jewelry from Old Crow Medicine Show's discarded guitar strings
Life on the road brought her closer to the band's fans though, who inspired her to start crafting jewelry out of Old Crow's old guitar strings. "I've sold merch here and there at a few shows... the fans just keep getting better and better... they love the music... by making guitar string jewelry, I can give them a little reminder [of that]. I've seen these guys play about twenty times in the past eight years, and they make me dance harder each time. Making bracelets out of their strings reminds me how hard they work.
With [my jewelry], you can't help but think
'rock me mama, like a wagon wheel…'
and how many crowds of people are singing along when the song was played on these strings.
"
"Even though Morgan is gone a lot, when he comes home, we pick up right where we left off.
He's really encouraged me to make guitar string jewelry, or any of my art, but I think he's the most excited about seeing other people enjoy it as much as I do. We love making others happy."
I asked Crystal and Morgan to make a playlist for y'all. Who's got better taste in music than a professional musician, right? While The Love List has hosted guest playlists from pros like the
Apache Relay
's
,
The Whiskey Gentry'
s
, and
by way of
Billy Reid
, we've never run one that a couple's made together, which I think makes this one particularly special and personal. It makes me want to tell more stories like this. Don't worry, I've got a few musical couples in mind already ;)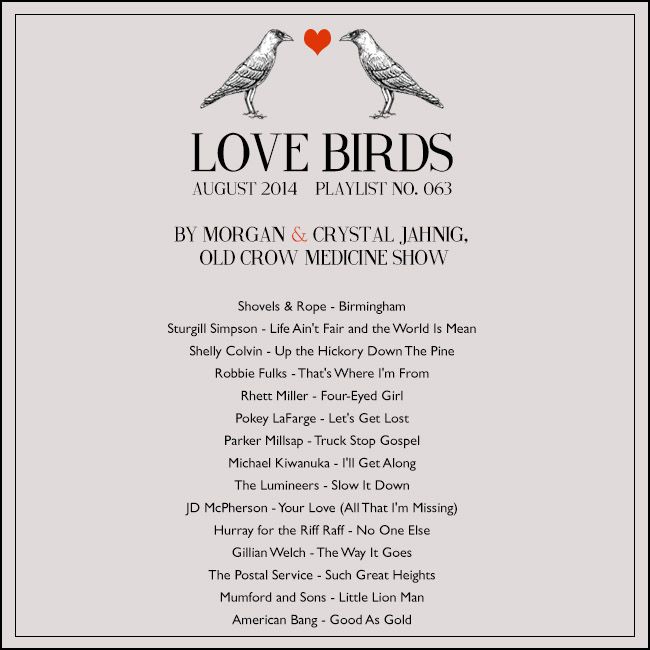 Click
or on cover art to
stream this playlist on Spotify
"
We picked these songs together," said Crystal "[each reminds] us of the relationship we have built together and continue just to love each other as we have from the first day. It's hard when he travels, so when he's home, we make the most of getting back into enjoying life together and raising our three year old. [The songs are] i
n no particular order... songs that we have danced to, remind us of each other and [make us] say...'that's so you they are singing about!'"
is currently on tour in promotion of their new album
Remedy
. Be sure to check them out when they land in your city, I fully intend to next weekend when they play Atlanta.