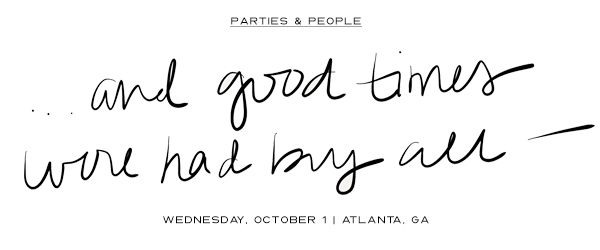 Guests L-R: Walter Shamp, Ashley Van Der Lande, me, Christopher Selem, Mary Logan Bikoff, Vena Kim, Sean Suarez
Photos:
I don't think it's any secret that one of my favorite things to do is round up a bunch of friends and have some fun. I'll generally use just about anything as an excuse to throw a party at my house. So when
came to town for a mutual friend's wedding a few weeks ago, I thought it was as good an excuse as any to invite some people over for (literally) bread and wine.
Caroline
and I teamed up to put on a mini shindig with a biscuit bar and good drinks. If you read Caroline's blog
, then you know she's a pretty badass home barkeep, so she was in charge of the really delicious John Dalys we put out in a punch bowl. The biscuit bar was also her idea, one borrowed from
and Lindsay's wedding, and it was a big hit. I made pimento cheese and chicken salad, and we stocked up on good jam and honey so everyone could soak up all the boozy cocktails they were taking down. It was a small group and a wonderful night. I thought y'all might like to see some of the pretty pictures Caroline took.
If you've never tried
, do it now. She's based here in Atlanta and aside from being extremely hilarious and whip-smart, she makes freakin' great jam. You can get it
!
Thank you Mary Logan for our collective obsession with Oyster Bay wine.
Next up: Christmas party!
Oh, and as a bonus, here's a photo I snuck of Caroline when she pooped out from party prep ;)