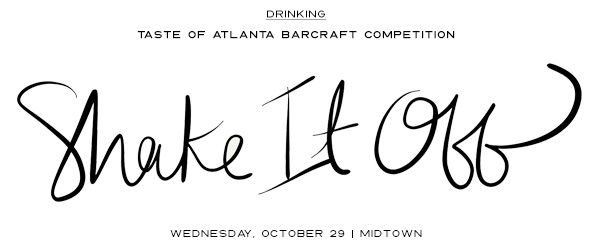 Barcraft Competition finalists Marcelo Nascimento (The Social, Chattanooga) and Tyler Alford (Tupelo Honey Cafe, Asheville, Chattanooga, Atlanta) with winner Bobby Eldridge (Empire State South, Atlanta) and emcees Greg Best (far left) and Michael Searles (far right).
Last Sunday, a couple of friends and I, cocktail nerds that we are, ventured Midtown to the
food festival so we could case the afternoon's, ah,
spirited
(cringe) barcraft competition. Sponsored by Fernet Branca, bar talent from all over the Southeast endured a series of challenges that tested not only the tastiness of their drinks, but confidence, presentation, and intelligent use of the base ingredient - Fernet, duh. Fernet, as competition emcee and Southern cocktail Godfather
Greg Best
put it is "one of those 'hey how are ya' spirits." Unapologetically bitter since its Italian-bred birth in 1845, it was originally conspired as a digestif, a secret blend of
just the right
herbs to cure what ails ya. These days, it's finding fresh footing as the base of many a clever cocktail.
Barcraft Competition winner Bobby Eldridge.
The judges were looking for a drink that was, according to emcee and
Atlanta Chapter President
Michael Searles
, "palatable, potable, intelligent and interesting."
Bobby Eldridge
, Head Bartender at Chef
Hugh Acheson'
s Empire State South, shook the winning drink, the Bali Hai, a rum concoction made on-the-spot with only the ingredients provided to him just moments before.
Photos:
For
, head on over to
Southern Living
's
.